Kitchen Remodeling in Pasadena, California
Homeowners in Pasadena, California have been trusting Sky Renovation & New Construction to create their dream kitchen for years. Professional advice and expert installers make Sky Renovation & New Construction the leading choice for kitchen remodeling in Pasadena. Whether you're planning to replace kitchen cabinets, install fresh countertops and upgrade appliances or renovate the entire room from plumbing fixtures to flooring, Sky Renovation & New Construction has the expert advice you need. We're ready to tackle any kitchen remodeling challenges that Pasadena homeowners face and offer quality materials for every taste and budget.
---
Call for a FREE Quote
---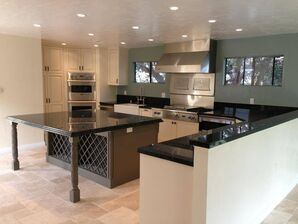 Increase Your Home's Value With a Kitchen Remodel
Kitchen renovations can get expensive, but these home improvements can also add incredible value to your property and make daily living better. The design staff at Sky Renovation & New Construction focus on creating value for your Pasadena kitchen remodeling investment, ensuring your new space remains comfortable and appealing for years. Having worked in Pasadena, CA for many years, they also know what fits into the local real estate market, offering an advantage should you ever put your home up for sale.
Frequently Delivered Pasadena Kitchen Enhancements:
Cabinet Installations
Countertop Installations
Tile walls and backsplashes
Creative Kitchen Lighting
Tile Flooring
Appliance Installations
Hood / Ventilation
Work Spaces
Islands
Expert Attention to Detail
The best kitchen renovation covers the big picture of design and space without leaving out the tiny details. Sky Renovation & New Construction always works hard to ensure every Pasadena kitchen remodeling project is tailored to the client and includes a well laid out design with custom details tucked in. Space-saving cabinets, energy efficient fixtures, and personalized decor touches are all part of the job for Sky Renovation & New Construction, as many Pasadena homeowners will confirm.
Call Sky Renovation & New Construction for Pasadena Kitchen Remodeling
Get the help of a local professional on your side and create the kitchen of your dreams. The expert contractors at Sky Renovation & New Construction have proudly served homeowners across Pasadena, CA for years, making countless kitchen remodeling dreams come true. Call Sky Renovation & New Construction at (818) 641-5509 today to start the ball rolling on your own kitchen renovation project.
---
Call for FREE Kitchen Remodeling Quote
---
WHAT CUSTOMERS ARE SAYING:
5★★★★★ - "We really appreciated the work of the Sky Renovation team. The work delivered is of high quality. The finish is really remarkable. Aja, Production Manager advised us a lot. Always excellent recommendations. The work is clean. The team is respectful. We will definitely do business with them for other work."

David N., Home Improvement in Pasadena, CA

2020-12-03

"Prime home remodeling did an amazing job on my kitchen in pasadena. We wanted to relocate our kitchen and Prime took care of all the details for us: The design, the plans, pulling the permits, the materials, the finishes and all the other million little details involved. They did a great job. We now have our dream kitchen and they converted our old kitchen into a beautiful living space. Thank you to all the team that worked so hard for us."

Barbara D. in Pasadena, CA

5★★★★★ - "We chose Sky Renovation for our kitchen project. Mr. Ian was very receptive to our requests throughout the work. The team wanted to be professional, determined and undeniably thorough in the execution. The bond of trust was essential because in the end it is the result that counts, but also that the sums invested give us full satisfaction in the long term. No major pitfall, no hidden amount, Mr. Ian was honest in his approach to work. Congratulations to this dedicated company whose only goal is the realization of a renovation project in peace, as desired by its client!"

Lauren A., Kitchen Remodeling in Glendale, CA

2021-10-15

5★★★★★ - "We strongly recommend Sky Renovation because the team is doing a very high quality job. They demonstrate professionalism with thoroughness, meticulousness, punctuality and unparalleled reliability; while always listening to our needs. A big thank you to the whole team and the pleasure of doing another project with you!"

Amanda W., Kitchen Remodeling in North Hills, CA

2021-09-16

5★★★★★ - "Our house is over 50 years old and cooking is extremely important to us. So, for its renovation, we had to redo everything and there were challenges. I did an extensive search to find a good builder I could trust. Result: our kitchen is very beautiful and functional, everyone congratulates us and we are happy every day in our kitchen. In addition it was a pleasure to work with Mr. Ian and his Sky Renovation team. He is competent at all levels, able to find solutions and make adaptations; he has a good, efficient and well organized team. Mr. Ian has the experience, the knowledge and knows how to find the best solutions as the project progresses."

Dan B., Kitchen Remodeling in West Hollywood, CA

2021-08-13

5★★★★★ - "Ian acted as a contractor for our kitchen and bathroom renovation project. Subcontractors selected by Michael were very professional. The work done by Ian and his team was of a high quality. The planned dates for the work were respected as well as the schedule. Ian has found original solutions to overcome the difficulties encountered during renovations. He was also concerned about leaving the property clean."

Blake Rampling, Kitchen Remodeling in Marigold, CA

2021-06-04

5★★★★★ - "After seeing what Ian (Sky Renovation) did for my boyfriend, I was impressed with his incredible workmanship, and had a brand new kitchen and small powder room built in my home ( built early 1950's). There were a number of challenges, but Ian is very innovative, communicates well with his customers, and is a great coordinator with other tradespeople. He did not disappoint my expectations in him, with fair pricing and it was done very quickly. I am thrilled with results."

Joe Paterson, Kitchen Remodeling in Rolling Hills, CA

2021-06-04

5★★★★★ - "Love how they remodeled my kitchen. They are by far the best remodeling service I have ever worked with, and I've worked with plenty in LA. Thanks so much sky renovation!"

Joel Assor, Kitchen Remodeling in Van Nuys, CA

2021-04-22

5★★★★★ - "Sky Renovation just recently finished with our kitchen remodel and we are tickled pink....we love it! Thank you Sky, thank you to your crew, thank you to our project manager and thank you to the office. You guys are the best."

Danny Atar, Kitchen Remodeling in Lucerne Valley, CA

2021-04-22

5★★★★★ - "Feb 17, 2016
Sky Renovation has done an amazing job on our house. We live in West Hollywood and bought our first house . Ian helped us make that house a place we now call home. He helped us with everything, from color choices to types of materials that would work best for us. He did our driveway, kitchen, bathrooms (3 of them), changed the floors, put in new windows and installed a new roof and gutters and lets not forget the painting (inside and out side) We highly recommend Sky Renovation to anyone that is looking for an honest company to deal with."

Gloria Franklin, Kitchen Remodeling in West Hollywood, CA

2021-04-22

5★★★★★ - "We chose Sky Renovation for our kitchen project. Mr. Ian was very receptive to our requests throughout the work. The team wanted to be professional, determined, and undeniably thorough in the execution. The bond of trust was essential because in the end, it is the result that counts, but also that the sums invested give us full satisfaction in the long term. No major pitfall, no hidden amount, Mr. Ian was honest in his approach to work. Congratulations to this dedicated company whose only goal is the realization of a renovation project in peace, as desired by its client!"

Elizabeth B., Kitchen Remodeling in Los Angeles, CA

2021-03-16

5★★★★★ - "Our house is over 50 years old and cooking is extremely important to us. So, for its renovation, we had to redo everything and there were challenges. I did an extensive search to find a good builder I could trust. Result: our kitchen is very beautiful and functional, everyone congratulates us and we are happy every day in our kitchen. In addition it was a pleasure to work with Mr. Ian and his Sky Renovation team. He is competent at all levels, able to find solutions and make adaptations; he has a good, efficient and well organized team. Mr. Ian has the experience, the knowledge and knows how to find the best solutions as the project progresses."

Oliver S., Kitchen Remodeling in Van Nuys, CA

2020-12-03

5★★★★★ - "Without any doubt I had complete confidence in Ian, Aja and Nataly of Sky Renovationto recreate my basement apartment in my new home. Built in 1967 there were unexpected surprises and new regulations to conform to. Ian was able to do the work quickly and efficiently due to his contacts in the industry. He always gave me options and was very aware of my budget. My home is now modern, safe and conform to modern regulations. Totally satisfied and highly recommend Ian and his team."

Maria A., Home Improvement in Arleta, CA

2021-11-11

5★★★★★ - "Excellent service, our project was to make two bathrooms in a small space. Mr. Aja and his team have done a master job, they are very careful and attentive to the details. We highly recommend Sky Renovation!"

Thomas B., Bathroom Remodeling in Newhall, CA

2021-10-15

5★★★★★ - "I definitely recommend the Sky Renovation company especially for the following: Clean and safe construction at all times (necessary if you have young children);
Great listening, kindness and valuable advice in the planning and monitoring of the work (even when I changed my mind 3 times ...!) Despite the many hidden defects of the house discovered during the works, Sky Renovation organized the evaluation by qualified specialists and the problems encountered were resolved extremely quickly and without stress. They use the best methods of work with great skill and speed. They respect the deadlines and the hours of appointment."

Brandon C., General Contractor in Los Angeles, CA

2021-10-15

5★★★★★ - "We have hired Sky Renovation to redo the bathroom and improve the kitchen of our first house. As first home owners, we did not have a lot of experience with renovations. I am happy to say that Sky Renovation took the time to walk us through the process and was very flexible. We are in love with our new bathroom and kitchen. We definitely recommend their excellent service!"

Reed P., Bathroom Remodeling in Encino, CA

2021-09-16

5★★★★★ - "We hesitated for a long time before taking steps for our renovation project. Several reserves were holding us back, including cost overruns and deadlines. Sky Renovation companies have swept away all our worries by carrying out the work in full respect of all their commitments. Thanks to Ian and the whole team!"

Rose C., Home Improvement in Panorama City, CA

2021-09-16

5★★★★★ - "We are extremely satisfied with the complete renovation of the bathroom by Sky Renovation. The exceptional quality of the work, the professionalism of the team, the judicious advice provided, the desire to validate the choices at each important step, the punctuality and the cleanliness of the site qualify this project well. It is without hesitation that we recommend Sky Renovation."

Michael D., Bathroom Remodeling in Sherman Oaks, CA

2021-09-16

5★★★★★ - "We really appreciated the work of the Sky Renovation team. The work delivered is of high quality. The finish is really remarkable. Aja, Production Manager advised us a lot. Always excellent recommendations. The work is clean. The team is respectful. We will definitely do business with them for other work."

Connor M., General Contractor in Van Nuys, CA

2021-09-16

5★★★★★ - "We have used their services twice now and have been very satisfied both times. The estimation is done in a way that you know exactly what will be done and how. The job is well executed and the place is clean. Highly recommend Sky Renovation!"

Warren H., Home Improvement in Sylmar, CA

2021-08-13

5★★★★★ - "I was really pleased with the attentive and courteous service of the Sky Renovation team. Whether for modifications and corrections to be made along the way, Mr. Ian and his employees remained open throughout the course. Honest and hardworking employees. It was a rewarding and positive experience.Without doubt we will continue to renovate our house with Sky Renovation and without hesitation I recommend them."

Christian U., General Contractor in Beverly Hills, CA

2021-08-13

5★★★★★ - "We have been working with Ian and Aja for over 3 years. Always helpful and always does a professional job. We continue to have a respectful relationship."

Stewart M., Home Improvement in Pacific Palisades, CA

2021-08-13

5★★★★★ - "I contracted Sky Renovation to build a garage, renovate a kitchen and add an extension to our home in Inglewood. The quality of work was best in class of our many projects and homes we have built over some 40 years in the USA. We would strongly recommend Sky Renovation to anyone planning
to renovate, extend or build a new home."

Justin D., General Contractor in Burbank, CA

2021-08-13

5★★★★★ - "We are delighted with the work Sky Renovation did. Their focus on details and on quality were just amazing. I would strongly recommend Sky Renovation to my friends and family or to anyone that consider any construction project. They were highly professional individuals that value and love what they do. This translated into a beautiful house that we love. Surely the best contractor I have ever worked with."

Diane M., General Contractor in Encino, CA

2021-07-16

5★★★★★ - "I had to build an addition on my post and beam cottage (which is far away) and needed a reliable contractor which was experienced in this type of construction. I came in contact with Ian from Sky Renovation. He gave me a cost estimate, which he honored and built a quality addition. He was organized with his team and managed to complete the work on time. I strongly recommend Ian and Sky Renovation for all types of construction work."

Jasmine W., Additions in North Hills, CA

2021-07-16

5★★★★★ - "Ian from Sky Renovation found a very effective solution for ventilation in my cottage. His solution with his experts, solved my moisture problem in the attic. During the works, he explains to me how a house "breathes" and how it must be maintained so that it lasts a long time. He also gave me lots of tips for finishing: how to use my tools and what materials to use for what I wanted to do. He was of constant support even after his part of the project was realized. Ian took care of my cottage as if it was his. Thank you!"

Kylie C., Home Improvement in Panorama City, CA

2021-07-16

5★★★★★ - "Very professional, excellent quality and kept on schedule. Managed the job in the best interests of the homeowner and offered proposed solutions or suggested changes as needed. Always responded promptly to phone calls and email and provided pictures as the work progressed. I continue to use
their services."

Anna T., General Contractor in Sherman Oaks, CA

2021-07-16

5★★★★★ - "Sky Renovation performed the required work fixing up our newly acquired chalet with excellence.They are trustworthy, professional, and personable. I would highly recommend them!"

Zoe O., Home Improvement in Van Nuys, CA

2021-07-16

5★★★★★ - "We phoned Ian at Sky Renovation to estimate the renovation of our deck overlooking the beach. He spent the time with us to really understand our options to ensure the view on the beach was beautiful. The team at Sky Renovation did an excellent job, they added small touches that made a difference in the quality of the work and even sent pictures as the job progressed. We highly recommend Ian and his team from Sky Renovation."

Carol C., Deck Building in Pacific Palisades, CA

2021-06-25

5★★★★★ - "Ian has a passion for construction. This is often heard in advertising, but during our project, and the many hours spent with Ian on the phone and on-site, I can personally guarantee his passion and focus for quality construction."

Edward M., Additions in North Hollywood, CA

2021-06-25

5★★★★★ - "I would like to thank the team of Sky Renovation. I had them redo the interior of my office, finish my basement at my home and complete the backyard fence to match the patio. The fact that he did that was not a surprise, what was appreciated was that he did it all within budget. Thanks to the incredible work he did on my home I was able to sell my home within a couple months and made a serious profit. Ian, Aja and Nataly, you're awesome!"

Jack W., Home Improvement in Pacoima, CA

2021-06-25

5★★★★★ - "Having to work together on different projects for the past 3 years, Sky Renovation has always exceeded my expectation by being very attentive to small details. Over the years, it became very easy to recommend Michael and his team. Keep up the good work!"

Owen J., General Contractor in Sylmar, CA

2021-06-25

5★★★★★ - "From beginning to completion Ian and Aja provided professional and responsible expertise in rebuilding our house. Their subcontractors all were competent and their electrical and plumbing all works well. The carpenter work was especially presentable with attractive additions thrown in on his own initiative to add to the beauty of the house. During construction, there are always new ideas that come up and Aja was responsive to these and incorporated them. So all went well and we are comfortable in the new house"

Julian Hardacre, New Construction in Los Angeles, CA

2021-06-21

5★★★★★ - "We hired Ian (Sky Renovation) twice to do major renovations on our house. They are real professional and reliable. They take to explain what has to be done and do the work respecting time estimated and within the budget. We recommend Sky Renovation because we were fully satisfied of the work done!"

Peter Mathis, Home Improvement in Los Angeles, CA

2021-06-04

5★★★★★ - "We hired Ian and his team to renovate our bathroom, a complete makeover. The original bathroom was a tiny cubicle with a closet door and a small corner shower. Aja, the Production Manager, extended the space of the bathroom by utilizing space from the entrance and corridor and now we have a beautiful bathroom that feels light and spacious. Bottom line: We LOVE our new bathroom! Many Thanks!"

Nicola Bond, Bathroom Remodeling in Paramount, CA

2021-06-04

5★★★★★ - "Ian at Sky Renovation does terrific work. He is probably not the least expensive option around (but you get what you pay for) but he is sensitive to budgetary constraints and provides plenty of information about alternative choices to allow an informed decision. He is clearly an expert in his field. Also important is that he is highly reliable: he shows up when he says he will and stays at it until the job is done. And most important is that I trust him. He's a nice guy. I highly recommend him."

Katherine Ferguson, Design in Casa Blanca, CA

2021-06-04

5★★★★★ - "Ian and the team at Sky Renovationwere a great asset to my build in Lake Balboa, they delivered to my very difficult demands as my house was custom from start to finish. The quality of work and dedication they put into every day here was impressive to say the least. Overall very happy with their work, I'll be calling them back for my next project on my land."

Alexander Mackay, New Construction in Lake Balboa, CA

2021-06-04

5★★★★★ - "It was the first time my wife and I bought an older home that needed renovations. We were quite nervous about finding a contractor and had already met a few that we were not quite comfortable with. After speaking with Aja at Sky Renovation on the phone and then meeting him in person, we knew we found the one that could wash away our worries. On budget, on target, professional, courteous and with solid communications, Sky Renovation completed our project. They now have a customer for life. We highly recommend this company to anyone looking for a contractor that goes above and beyond and delivers high quality of work. Bravo and Thank You Sky Renovation!"

Justin Stewart, General Contractor in Fairmont, CA

2021-06-04

5★★★★★ - "Ian and his team at Sky Renovation did a great job at building a new deck and renovating a guest bathroom. They proved to be professional at what they do and used reliable subcontractors. Michael was great at communicating the process and timeline for the work to be done right from the first meeting. It is obvious that Ian takes pride in his work and goes to great length to make sure the client is fully satisfied. I would highly recommend Sky Renovation to anyone."

Jacob Peters, New Construction in West Hollywood, CA

2021-06-04

5★★★★★ - "After hearing many nightmare stories about bad contractors, I did a lot of research before making the choice to hire Sky Renovation to redo my common bathroom and I could not be more satisfied. The attention to detail (from structural elements to creating custom pieces), these guys made me feel like this was the most important job they had. I now have a go-to team that I trust to take care of my home."

Christian MacLeod, Bathroom Remodeling in Lake Forest, CA

2021-06-04

5★★★★★ - "We hired Ian and his team for our first dream home. Sky Renovation delivered what they promise, quality work, respecting dates. Thanks again for everything Ian!"

Lisa Morrison, General Contractor in Los Angeles, CA

2021-06-04

5★★★★★ - "Excellent work, even under challenging conditions (100 y.o. house). Patient to explain and discuss possible solutions, adaptable towards difficult situations. Highest rating for the work executed. Fast, polite. Recommended"

Caroline Bond, Home Improvement in Van Nuys, CA

2021-06-04

5★★★★★ - "They managed to make a nice bathroom in a small place. The contractor was able to advise me and guide the work wisely. I called them back for the basement and the windows. The works were executed respecting deadline and budget. Reliable and courteous staff."

Pippa Brown, Bathroom Remodeling in Los Angeles, CA

2021-05-21

5★★★★★ - "Overall a very good work done by the team from Sky Renovation. I appreciated the fact that people were on time, every time. They took the time to do the work right and not to rush what needed to be done. Overall very meticulous work. I would hire them back for additional work at my place. There was something that needed to get fixed after they completed their work. The came back to my place rapidly to check the issue and did fix the problem since this is part of their warranty. Up to now, they did what they told me they would do. This is a big plus in this type of work."

Joan Ferguson, General Contractor in Fawnskin, CA

2021-05-21

5★★★★★ - "Sky Renovation renovated completely my bathroom. They did a very good job and took care of whatever concerns and dissatisfactions I brought up to their attention. Very professional. I would rate their customer service to be at an excellent level. I would hire this company again if I need other renovations done"

Sonia Kerr, Home Improvement in Surfside, CA

2021-05-21

5★★★★★ - "We did a complete renovation of our main bathroom. We brought in three bidders and chose Sky Renovation to do the work. The price was average, but it is also the professionalism and simplicity of Mr. Ian that made us look for this company. During the submission process and throughout the project, Mr. Ian was attentive to our needs, patient (we asked him several questions) and helpful. The work was very well done and the schedule was respected. In addition, the employees are courteous and just as professional and helpful. We would have no hesitation in recommending this company and doing business with it again."

Dylan King, Bathroom Remodeling in Van Nuys, CA

2021-05-21

5★★★★★ - "From our first time with Ian, he easily gained our confidence by his simplicity, his honesty and his great culture. We then entrusted him with our basement and a bathroom. Our feelings from the beginning were largely confirmed: professionalism, no added fees, impeccable workmanship, cleanliness and great respect. It is with confidence that we recommend this company. Try it too and come back to this page to describe your experience."

Dan Parr, General Contractor in Van Nuys, CA

2021-05-21

5★★★★★ - "We decided to do business with Sky Renovation for the complete renovation of our bathroomand we did well! Stéphane and his team put us in trust from the beginning, and the result lives up to our expectations; very well executed, on time with special attention to detail. Always listening to the customer, they did not hesitate to advise us throughout the process and make some minor changes, even after the completion of the work. We definitely recommend Sky Renovation! Thanks to Ian and his team!"

Christian Abraham, General Contractor in Los Angeles, CA

2021-05-21

5★★★★★ - "I found the name of this company on Internet. When I received the bid to remake my basement, including a bathroom, I was impressed by the seriousness and professionalism of his approach. The work proceeded as planned, without hidden costs, without tension and with a quality of work and exemplary human relations (concerns with the detail, cleanliness, respect, etc). It's my pleasure to encourage this entrepreneur."

Jennifer Alsop, Bathroom Remodeling in Los Angeles, CA

2021-05-21

5★★★★★ - "Sky Renovation makes your project a success. His team respects and even exceeds the expectations of customers."

Una Graham, General Contractor in Los Angeles, CA

2021-05-21

5★★★★★ - "Thanks to this company, my basement has gone from a banal state to a pleasant and welcoming state. The bathroom is so beautiful that the one on the first floor now seems obsolete. The staff is honest and competent. I am happy to recommend this company to encourage it. I am lucky to have met them."

Joan Randall, Bathroom Remodeling in Santa Barbara, CA

2021-05-21

5★★★★★ - "I recommend without hesitation Sky Renovation, in 10 years it is the only company that was within budget and on time. Any situations that could cause a timeout or extra cost have been voiced upfront before signature. Aja has demonstrated professionalism and competence in correctly evaluating the project. The site was always clean at the end of the day, the whole team was very friendly. The work was done without stress for the family. Thank you to all the team."

Sean Fraser, General Contractor in Van Nuys, CA

2021-05-21

5★★★★★ - "We have retained the services of Sky Renovation when we bought our house in the fall of 2013 (almost complete renovation of the basement with bathroom). We greatly appreciated the work of Ian and his team. Professional, efficient and honest are the qualifiers that come to mind. The communication was good, the problems were resolved in a very respectable time and the duration of the work was reasonable. In short, do not hesitate to entrust your projects to this company, the costs are worth the results!"

Cameron Lawrence, General Contractor in Los Angeles, CA

2021-05-07

5★★★★★ - "We renovated our bathroom with Sky Renovation. This contractor is very honest, offers a very good service during and after sale. Stéphane is very friendly and our project has given very good results. Super housekeeping every week and at the end. We are fully satisfied. Really great. Do not hesitate."

Zoe Hunter, Bathroom Remodeling in Woodcrest, CA

2021-05-07

5★★★★★ - "Speed, competence, reliability, punctuality, expertise are the words that best describe Sky Renovation. What good words to say about this team out of the ordinary. We recommend without any hesitation!"

Samantha C., General Contractor in Los Alamitos, CA

2021-05-07

5★★★★★ - "Thanks guys for your professional service and speedy finish on my condo that I needed to update for resale!"

Jason McLean, General Contractor in Lake Los Angeles, CA

2021-05-07

5★★★★★ - "Amazingly attentive and prompt. One of the best, reliable, honest, and great companies out there!!"

Louisa Santerre, General Contractor in Los Angeles, CA

2021-05-07

5★★★★★ - "Love the work they did in my backyard and bathrooms. You guys are amazing thanks for the great price and excellent service."

Thomas Beting, Bathroom Remodeling in Riverside, CA

2021-05-07

5★★★★★ - "Amazing job remodeling my house. Thanks so much to this awesome team!!"

Daniel Eidelstein, General Contractor in Green Valley Lake, CA

2021-05-07

5★★★★★ - "I love my new home. So thankful for the job well done. Love how they remodeled my kitchen completely in no time. Definitely recommended"

Elan Roffe, New Construction in Van Nuys, CA

2021-05-07

5★★★★★ - "Called them to do a bathroom and they we very helpful and professional. Great work and fairly priced. Will definitely use again."

Brendon H, Bathroom Remodeling in Newport Coast, CA

2021-04-22

5★★★★★ - "Call them to do a kitchen remodel and was very happy with the work thanks again and thanks Ian. We liked how it came out at the end"

Steve Habiniak, General Contractor in Windsor Hills, CA

2021-04-22

5★★★★★ - "Ian, Aja and the whole Sky Renovation team made me feel at ease. I did a complete home renovation with them and I'm so happy with the final result. Customer service was great, always responsive and helped me all along. Will hire again and recommend to all my friends. Great work 👍"

Cathy Lane, Design in Summerland, CA

2021-04-22

5★★★★★ - "Great company to work with! they designed both the kitchen and bathroom and did amazing job, the workers are super nice and all was left nice and clean"

Yo Yo, Bathroom Remodeling in Westchester, CA

2021-04-22

5★★★★★ - "Ian did a greta job. He was involved in every little detail of the project from start to finish. He created the home of our dreams. We needed to remove an older home from the lot and completely build a new one. He went forward fast with our best interest in mind all the way through. He made this process a lot easier for all of us. Thank you Ian and all the team at Sky Renovation"

Tim Mclellan, New Construction in Pomona, CA

2021-04-22

5★★★★★ - "Hired Sky Renovation to help me make the outside of my house look amazing and now it truly does!!! Ian did the stucco and driveway and did an awesome outdoor kitchen and entertainment area. Really great job."

Kevin Laster, General Contractor in Santa Clarita, CA

2021-04-22

5★★★★★ - "I have been searching for a contractor I can trust for a very long time. A close friend of mine recommended Sky Renovation and they are truly amazing! Ian came to meet me, and I ended up choosing him for my kitchen remodeling project. Since than I can say he is my contractor for life.. and they are very hard to find. But Ian was outstanding with both work quality and communication. highly recommended"

Sandy Ray, General Contractor in West Hollywood, CA

2021-04-22

5★★★★★ - "We recommend the company Sky Renovation without any hesitation. The work done was professional and respectful of our requests. As far as the work is concerned, it was first about opening walls in order to have large rooms. The openings and the frame were adequately consolidated. Then a floor was totally done. Wood moldings were laid around the openings. The staircase was redone, a wall was removed and replaced by bars. The steps have been sanded, the risers painted. Installation of a dishwasher, so work of adjustment at the level of the cabinets. Painting everywhere, etc."

Sarah J., Home Improvement in Los Angeles, CA

2021-03-16

5★★★★★ - "Professional work, according to the planned deadlines. Great listening to our needs.High quality of execution for the finishing and maintenance of the site in a respectable state of cleanliness."

Victoria H., Home Improvement in Los Angeles, CA

2021-03-16

5★★★★★ - "I definitely recommend the Sky Renovationcompany especially for the following: Clean and safe construction at all times (necessary if you have young children); Great listening, kindness, and valuable advice in the planning and monitoring of the work (even when I changed my mind 3 times ...!) Despite the many hidden defects of the house discovered during the works, Sky Renovation organized the evaluation by qualified specialists and the problems encountered were resolved extremely quickly and without stress. They use the best methods of work with great skill and speed. They respect the deadlines and the hours of appointments."

George M., General Contractor in Los Angeles, CA

2021-03-16

5★★★★★ - "We have hired Sky Renovation to redo the bathroom and improve the kitchen of our first house. As first homeowners, we did not have a lot of experience with renovations. I am happy to say that Sky Renovation took the time to walk us through the process and was very flexible. We are in love with our new bathroom and kitchen. We definitely recommend their excellent service!"

Michael P., Bathroom Remodeling in Los Angeles, CA

2021-03-16

5★★★★★ - "We hesitated for a long time before taking steps for our renovation project. Several reserves were holding us back, including cost overruns and deadlines. Sky Renovation companies have swept away all our worries by carrying out the work in full respect of all their commitments. Thanks to Ian and the whole team!"

Tina F., Home Improvement in Van Nuys, CA

2020-12-03

5★★★★★ - "We are extremely satisfied with the complete renovation of the bathroom by Sky Renovation. The exceptional quality of the work, the professionalism of the team, the judicious advice provided, the desire to validate the choices at each important step, the punctuality and the cleanliness of the site qualify this project well. It is without hesitation that we recommend Sky Renovation."

Jason S., Bathroom Remodeling in Van Nuys, CA

2020-12-03

5★★★★★ - "I was really pleased with the attentive and courteous service of the Sky Renovation team. Whether for modifications and corrections to be made along the way, Mr. Ian and his employees remained open throughout the course. Honest and hardworking employees. It was a rewarding and positive experience.Without doubt we will continue to renovate our house with Sky Renovation and without hesitation I recommend them."

Jon B., Home Improvement in Van Nuys, CA

2020-12-03

5★★★★★ - "They have really good workers who are experienced and professional. They left our property clean at the end of every work day. They were respectful to us and our property. Highly recommend!"

Dee M,, Home Improvement in Van Nuys, CA

2020-12-03

5★★★★★ - "We wanted to personally thank your for doing such a good job on our house. The exterior of our house looks exactly like we imagined it would and more. The stamped cement in the drive way looks great and the stucco and new windows you installed changes the entire look of our house. the stone work you did in our back yard and the pool you added makes our home feel like a little paradise. Thanks again for keeping it as clean as possible and for everything else you did for us. Thanks for the free out door TV you installed for us, it was a wonderful surprise."

Emily and Shawn Walters in Los Angeles, CA

2013-10-15
---
Call for FREE Kitchen Remodeling Quote
---